Need Help Configuring Nagios?
Our tech support team is happy to help you with any questions you might have. Contact us on our online support forum at https://support.nagios.com/forum/
Nagios XI Makes Monitoring Easier: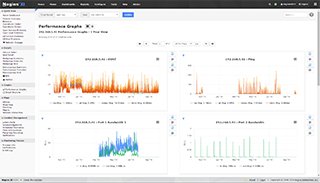 Nagios XI is the easy-to-use, enterprise version of Nagios that features:
Web-Based Configuration provides advanced configuration features
Monitoring Wizards make it easy to monitor new devices, applications, and services
Customizable Dashboards allow for per-user customization
Integrated Performance Graphs provide trending and capacity planning information
Advanced Reports provide data insight and exporting capabilities
Data Visualizations enable powerful analysis of patterns and problems
Nagios Core Import functionality makes it easy to migrate from Nagios Core
Download a free 60-day trial of Nagios XI or give the online demo a spin.

Inquire today and let our Quickstart team help you get started with Nagios XI
SNMP Addons, Utilities, And Plugins
Nagios Core is fully capable of monitoring SNMP through both SNMP traps and active polling.
There are hundreds of community-contributed SNMP addons and projects on Nagios Exchange. Here are a few links to SNMP projects and categories that are most useful when integrating SNMP traps with Nagios Core:
Many people ask how Nagios Core compares to OpenNMS when it comes to SNMP monitoring, SNMP trap integration, and other features. Read How Nagios Compares To OpenNMS