Need Help Configuring Nagios?
Our tech support team is happy to help you with any questions you might have. Contact us on our online support forum at https://support.nagios.com/forum/
Nagios XI Makes Monitoring Easier: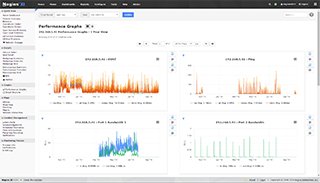 Nagios XI is the easy-to-use, enterprise version of Nagios that features:
Web-Based Configuration provides advanced configuration features
Monitoring Wizards make it easy to monitor new devices, applications, and services
Customizable Dashboards allow for per-user customization
Integrated Performance Graphs provide trending and capacity planning information
Advanced Reports provide data insight and exporting capabilities
Data Visualizations enable powerful analysis of patterns and problems
Nagios Core Import functionality makes it easy to migrate from Nagios Core
Download a free 60-day trial of Nagios XI or give the online demo a spin.

Inquire today and let our Quickstart team help you get started with Nagios XI
Distributed Monitoring Overview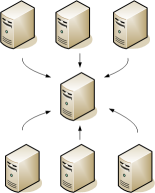 The general goal of distributed monitoring is to allow a Nagios Core environment to scale to monitor a large infrastructure. There are a number of different options for deploying a distributed monitoring solution with Nagios Core.
Methods of achieving a distributed monitoring solution can sometimes be complicated. Before you embark on designing and deploying a distributed monitoring solution you should outline the goals you wish to achieve with the solution you are proposing. No single solution is the "right" solution for every environment. The method you choose to implement should be based on your end-goals, as well as the time and effort required to deploy and maintain the chosen solution.
Different options for setting up a distributed monitoring environment, along with their strengths and weaknesses, can be found in a special Distributed Monitoring topics area of the Nagios Core Library.
The best starting point to familiarize yourself with solutions for distributed monitoring is the document titled "Distributed Monitoring Solutions For Nagios Core".