Checking For Updates
You can easily check if you have the latest version from within Nagios XI by selecting the Check for Updates link located at the bottom left of the Nagios XI interface.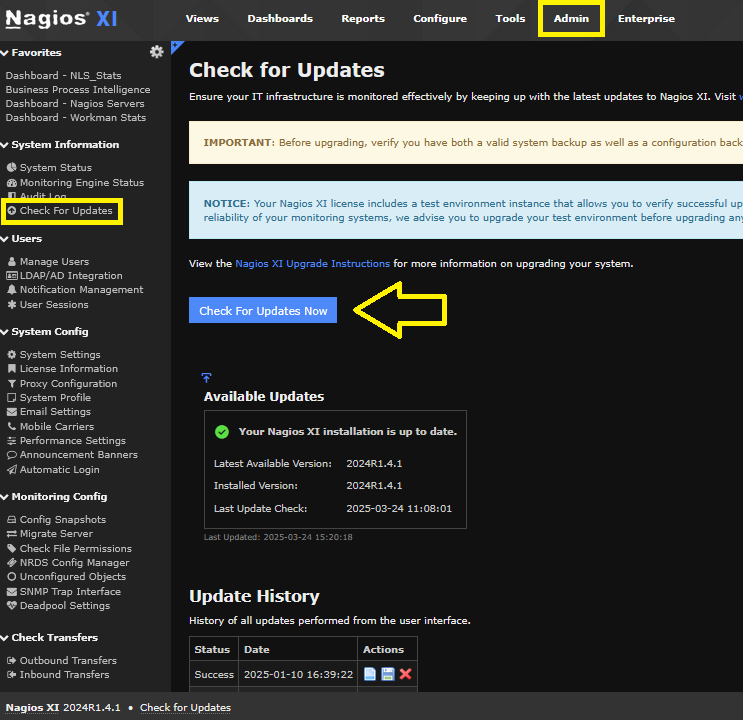 Staying Informed Of New Releases
To stay informed on the latest updates, news, and new releases, subscribe to our email newsletter.
Obtaining The Latest Release
The latest release for Nagios XI can be found at the Nagios XI Downloads page. This page also contains the latest development snapshot of Nagios XI.
Upgrading XI
A quick guide on how to upgrade an existing Nagios XI installation to the latest release.
Manually Upgrading Your Nagios XI Install
This document describes how to upgrade your Nagios® XI™ installation quickly and easily from the web interface. This allow users to upgrade to latest version of Nagios XI which provides users with critical patches, bug fixes, and resolved security vulnerabilities.
This document is intended for use by Nagios XI Administrators who want to keep their Nagios XI installation up-to-date and easily upgrade their installation with a simple click of a button.